Chiropractor Brian Broskoskie D.C.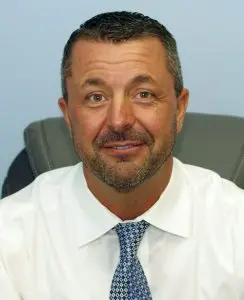 Born and raised in Freeland, Pennsylvania, Dr. Broskoskie became interested in chiropractic when he received help from a chiropractor after a severe fall that fractured his thoracic spine. The remarkable results he received as a chiropractic patient gave him first-hand appreciation for health care that could alleviate his problems without drugs or surgery.
After completing high school at Mining Mechanical Institute, he went on to receive his undergraduate and Doctor of Chiropractic degree from Sherman College in Spartanburg, South Carolina. He continues his education by attending and teaching post graduate seminars in advanced adjusting techniques, diagnostic procedures, research innovations, and radiology.
He specializes in 21st century methods to deliver the most effective chiropractic care available.
For example, Dr. Broskoskie has helped design and has almost 20 yrs experience in the use of the Pulstar FRAS (Force Recording & Analysis System) This FDA compliant system is used as an analysis tool as well as a treatment modality. The Pulstar utilizes precisely controlled, low force, multiple impulses to provide a gentle joint mobilization. This unique computerized non-invasive fixation imaging system allows your doctor to accurately and objectively locate and correct spinal joint fixations. The goal is to obtain a measure of the movement of each vertebra or segment of the spine under evaluation. This measure is obtained by applying a low energy impulse to each portion of the spine sequentially which than can be viewed on a computer screen.
If you are looking for the top-rated Bethany Beach chiropractor, contact Dr. Brian today!
Professional Associations
Board Certified X-ray
Board Certified Videofluoroscope
Board Certified Adjunctive Procedures (PT)
Board Certified in Arizona, Pennsylvania and Delaware
Academy of Chiropractic member
Trauma Team Qualified
Primary Spine Care Qualified
MRI Spine & Brain Credentialed
Monday
8:00am - 3:00pm
---
Tuesday
10:00am - 7:00pm
---
Wednesday
By Appointment Only
---
Thursday
10:00am - 7:00pm
---
Friday
8:00am - 3:00pm
---
Saturday
By Appointment Only
---
Sunday
By Appointment Only
Results Chiropractic
30838 Vines Creek Road #2A
Dagsboro, DE 19939
P: (302) 404-0000
F: (302) 358-2453